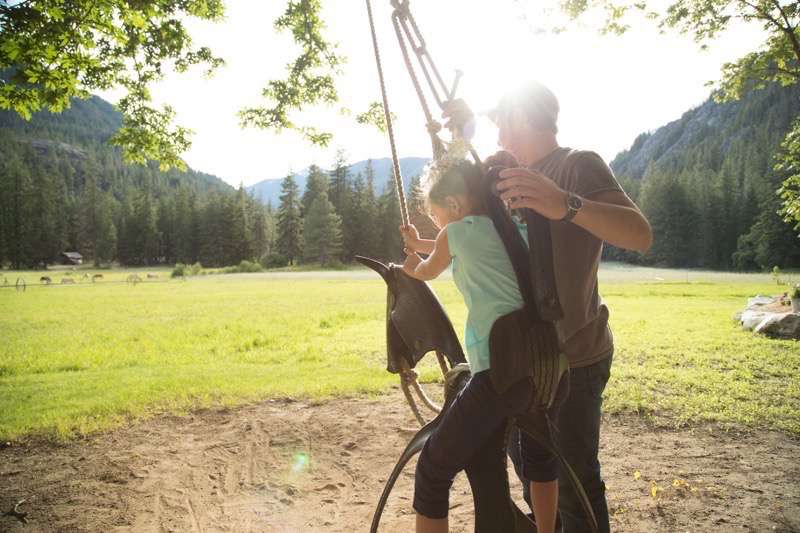 Looking for a fun vacation for your family this June? We've got you covered!
Try our Family Fun Package
and SAVE up to $225 for your family of 4*! Plus we take care of all your bookings for you!
Available June 14-30, 2019
Stehekin Valley Ranch is a perfect venue for everyone in the family!
Take advantage of guided activities, partake of our wide variety of outdoor games, spend time on your own hiking and biking adventures, gather around board games, or just kick back and relax.
Best of all, Mom gets a break too – ALL your meals are included with your stay at the Ranch!
Have we piqued your interest yet? If so, keep reading…
Here's what's included in the base rate for this package:
Your choice of a Tent Cabin or Ranch Style Cabin
All Meals – fantastic grub prepared fresh just for you!
In Valley Transportation – we'll get you where you want to go!
Kayak Tour** on Lake Chelan for the whole family
Shared Horseback Riding Lesson** for the kids
Great Kid-friendly Hiking trails
Unlimited access to a wide variety of indoor and outdoor games at the Ranch
Add-on options:
Take a Horseback Trail Ride** with the whole family instead of the riding lesson – additional $190
2 Single Horseback Riding Lessons** instead of the Shared Riding Lesson – additional $50
All Day Bike Rental*** for the whole family – additional $60
You can also make arrangements for a visit to our massage therapist, sign up for a guided fishing trip, or just head to the lake for a swim in the brisk waters of Lake Chelan!
1-800-536-0745
ranch@stehekinvalleyranch.com
 Want more options? Talk to our reservation staff to build your own family vacation.
Deposit and Cancellation Policies
Deposit:
We require a 50% deposit (including taxes) to hold your reservation. Contact our reservation office (1-800-536-0745), or send your deposit to:
Stehekin Valley Ranch
P.O. Box 36
Stehekin, WA 98852
Cancellation Policy:
10% of the total cost of stay is nonrefundable. 100% of deposit is nonrefundable unless we are notified in writing (email is fine) 30 days prior to your scheduled arrival. If your reservation is made less than 30 days prior to your scheduled arrival the deposit is non-refundable. Total cost of your stay plus tax is due upon your arrival. 50% of the cost of unused services will be refunded.
Fire, Smoke & "Acts of God" Policy:
We are not responsible for natural disasters which might affect your stay such as fires, smoke, floods, etc. As such, we do not refund your deposit if you decide to cancel due to an "act of God", unless an official closure notice has been issued and guests are literally unable to come – which is a very rare occurrence. If you are concerned about losing your deposit in this sort of event, we highly recommend purchasing Travel Insurance (see below). Please do not expect us to be your insurance policy. Bear in mind that we only take a 50% deposit. If you do end up cancelling, we are meeting you halfway by losing the other 50%. We also encourage folks who may have respiratory issues to not plan your stay during the typical fire/smoke season (generally the month of August has a higher potential for fires in the surrounding area.)
Travel Insurance:
We highly recommend you purchase travel insurance. Unexpected events happen, which can cause you to cancel your trip. To guard against losing your deposit, you can buy travel insurance for a small fee. If you wish to purchase travel insurance, go to TripAssure , or other online travel insurance sites for details and to purchase.
*This package rate is for 2 adults and 2 children. Children must be 4 – 12 years old. If your children fall outside of this range, please let our reservation staff know. We will adjust your rate accordingly while still applying the package discounts.
**Guided Activities are subject to availability, weather and other safety concerns. If SVR cancels an activity for any of these reasons, the package price will be reduced by the activity amount only. To participate in any guided activities you will be required to sign an Assumption of Risk waiver. There are also minimum age requirements for the various guided activities. Kayak Tour: Age 3+, Horseback Lesson: Age 4+, Horseback Trail Ride: Age 8+.
***Bike rentals are through Discovery Bikes, and available on a first come first serve basis. You will be reqired to sign a waiver before using a bike. Helmets are available.