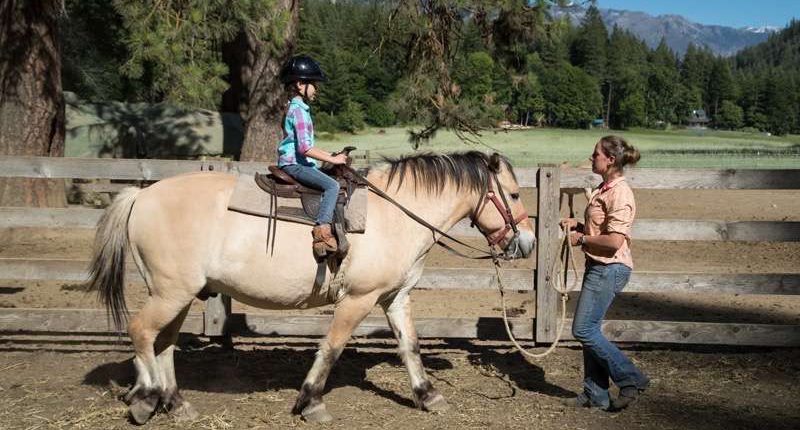 Horse lessons for the kiddos![/caption]
Have a horse lover in your group? Try out the awesome offerings from Stehekin Outfitters and satisfy your inner cowboy/cowgirl.
Trail Rides
1/2 Day Ride to Coon Lake
2 1/2 hour round trip ride from the Ranch to Coon Lake on gentle trail wise horses. Enjoy breathtaking views. Rides leave daily 8:30am and 2:30pm.
Price: $65.00 each; plus tax
Limit: 6 riders, minimum 2;
Age Limit: 8 years old accompanied by an adult.
Smooth Sole Shoes, Please
No Riding Experience Necessary!!
Full Day Ride to Bridge Creek
Spend the day riding the 14 miles round-trip to Bridge Creek. Enjoy your lunch, and check out the water at the bridge before winding your way back to the Ranch.
Price: $135.00* each; plus tax
Limit: 6 riders, minimum 4
Horseback Riding Lessons
For the kiddos and beginners, lessons are available. We recommend checking in advance to make sure our top notch instructors are available during your stay.
Provided at the Ranch by Stehekin Outfitters.
Staying somewhere else? The Stehekin Shuttle Bus is scheduled to coincide with dayride departure times for your convenience!
*This price is for Ranch guests who will pack their own lunch from the Ranch. Non-Ranch guests will be provided a lunch from the Stehekin Pastry Co. and charged a total of $150.00 each, plus tax.
Stehekin Outfitters also does multi-day pack trips. These can be either horse supported hiking trips (you hike, the horses carry the gear) or riding trips. Check out their website for more information about getting into the backcountry!