Groups welcome at the Ranch!
Need a destination for your group? Look no further! Stehekin Valley Ranch is excited to host groups of all sorts!
Hiking Groups
Stehekin Valley Ranch is the perfect Basecamp for groups looking to get out and HIKE in the North Cascades.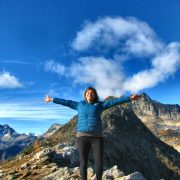 With meals and in-valley transportation included, your group is free to hike all day, without having to deal with the extra hassle and planning. Not only can you use the scheduled Ranch Shuttle Bus for free, but we are happy to work with your group to provide extra transportation as needed to make sure you get to trailheads and back. And the food is AMAZING!!
We can also help you arrange additional activities while in Stehekin. Kayak Tours, Horseback Rides, Massage, Electric Bikes, Fish, Mountain Bikes – all can be at your fingertips here at the Ranch. And – if that isn't enough – we also have a wide range of both indoor and outdoor games, books, puzzles, and even hammocks for you to enjoy right here in camp.
Hiking groups that have already discovered the perks of staying at the Ranch:
The Sierra Club ~ The Cascadians ~ The Mountaineers ~ The Hobnailers