Stehekin May get better boat service!
Public Hearing April 22 in Chelan.
Read on for info on how to help out and or/attend the public hearing.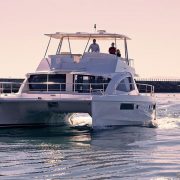 Perhaps you have heard about the proposal that Backcountry Travels, LLC (owned by Colter and Lindsey Courtney) have made to operate another vessel on Lake Chelan.  It would be a 50' catamaran that would be very efficient and travel the distance between Fields Point and Stehekin in less than an hour and a half.
Promising to be quiet and comfortable this boat would give residents and visitors two huge advantages to complement what is currently being offered!
The first is a reverse schedule that leaves Stehekin earlier to get folks departing on the road to appointments or home by noon.  Coming in to Stehekin it would not depart for the uplake journey until 1 pm.
The other advantage of this added service is that we will once again have a daily service to Stehekin all year long – which we haven't had since the float plane service was terminated.
Thanks to many of you supporting this endeavor, it is seriously being considered by the Washington Utilities and Transportation Commission.
They are conducting a Public Hearing on this proposal on April 22nd at 9am at Campbell's resort in Chelan.
If you can come to this hearing to support Colter and Lindsey it would be much appreciated!
If you are not able to attend, you may use the link below to get to the website where you can submit written testimony on the need and the desirability of this proposal.
Submit a Comment to the UTC