2023 Stehekin Spinning Rendezvous
3 Nights: June 2-5, 2023
This is a great opportunity for folks who enjoy working with wool and other fibers to get together and create new things while visiting with others who share the same passion.
New to the fine art of spinning? JOIN US! This is a great way to learn new tricks from those that have some more experience.
Oh, and did I mention that this is all happening at Stehekin Valley Ranch – where fabulous vistas and amazing food abound! It just doesn't get any better than that!!
This Year's Project: Add a splash of color – Paint your Roving
The Workshop:
Dye & Spin up some yarn for your next project!
Have you ever wanted to spin roving with a particular selection of colors but couldn't find just the colors you wanted? Here's your chance to design and dye roving in your colors.
Molly Gerhard will be leading the dyeing project this year. She will have all the dyes and other supplies needed to turn your natural fibers into vibrant pieces of art!
Process: Bring pictures or items as color inspiration for your yarn. Mix your dye colors while the roving is soaking. Lay the damp roving on plastic wrap and apply the dyes. Then wrap the plastic around the roving to seal it, roll it like a jelly roll, and zap it in the microwave. When the dye is set and the roving has cooled, rinse it out and dry it. You'll be spinning your own yarn by the end of the weekend!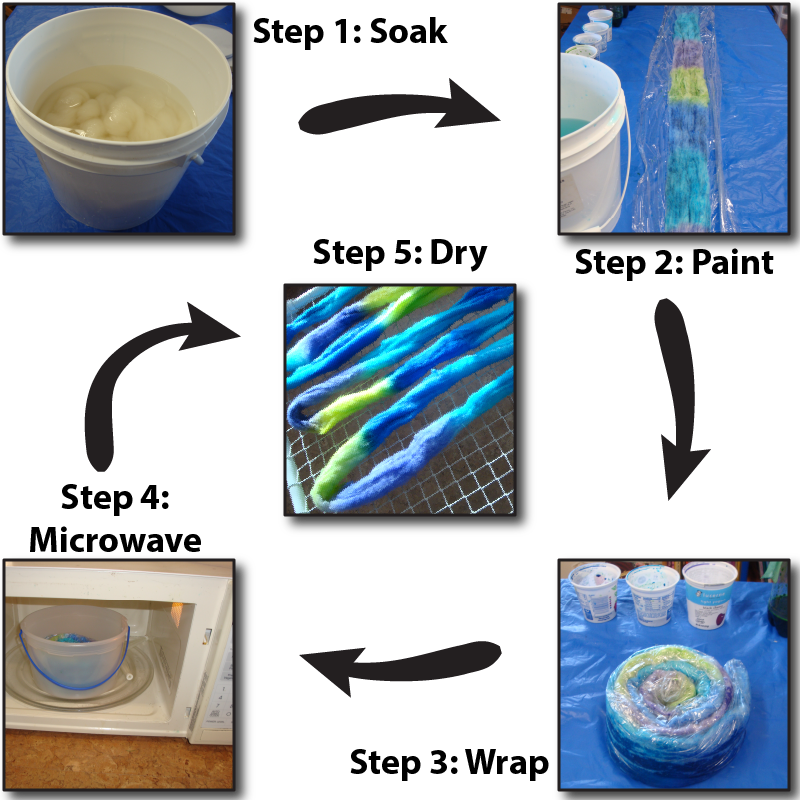 Supplies: In May, you will receive a supply list. There will be a materials fee to cover the dye. If you have your own roving, bring it. Roving will also be available for you to buy at the Spinning Rendezvous.
Have we piqued your interest? Read on for the full low-down on what the weekend entails and how to reserve your spot. Hope to see you here!
Ready to sign up? Contact our reservation office to reserve your spot: 509-682-4677 or ranch@stehekinvalleyranch.com
Please Note: Cabins have been blocked off specifically for this group, so
you will not be able to reserve online for this event

. Please use the contact info above to Call or Email us to make your reservation. Thanks!
When:
3 Nights: June 2-4, 2023, departing on June 5.
Where:
Stehekin Valley Ranch, Stehekin, WA
Cost & What's Included:
Stehekin Valley Ranch is offering an inclusive package for this weekend. Get your cabin, all meals, and boat transportation (required to reach Stehekin) for $577.50* + tax.
What to Bring:
Your spinning wheel.
You should also bring your own fiber to dye, or place an order with Molly prior to the weekend so she can bring it for you to use on the dyeing project.
If you have items you would like to bring for show and tell, bring those too!
And of course all your personal items for a 3 night stay.
Are non-spinners welcome?
Sure! Bring family members or close friends if you wish. There are plenty of activities for folks to do if they are not spinning. Hiking, electric bikes, kayaking, horses, or just kicking back in a hammock.
We do ask that there is at least 1 spinning participant per cabin for this package deal.
How to get here:
First you have to get to the boat dock at Field's Point. It is located on the South Shore of Lake Chelan. There is a parking fee at the dock. We recommend carpooling if possible to save on parking fees (charged per vehicle.)
Catch the Stehekin Ferry at 1pm and travel to the upper end of Lake Chelan. The folks at the Ranch will pick you up at the Stehekin dock when you arrive. After a 9 mile bus trip, you have arrived! Have fun!
How to Sign Up:
Contact Stehekin Valley Ranch:
509-682-4677 or
ranch@stehekinvalleyranch.com
Let their reservation folks know you are interested in signing up for the Spinning Rendezvous, and reserve a cabin.
You will be contacted in the weeks prior to the event with additional information.
Who to Contact with Questions:
If you have questions about the workshop and other event activities, please contact Molly Gerhard at: mollygerhard@gmail.com
If you have questions about the Stehekin Valley, the Ranch, and non-event activities, contact Stehekin Valley Ranch at: ranch@stehekinvalleyranch.com
---
*Rates subject to increase due to inflation and/or fuel surcharges.
Slideshow of the 2019 Spinning Rendezvous
For 2019, we did a "Sheep to Shawl" project. We spun the yarn and then everyone took turns with the table loom to create to weave a beautiful shawl.