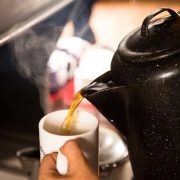 I can't believe that it is already November, as I am just now sitting down to reflect on the amazing summer we had in 2017!
The Ranch is now tucked away, ready to hibernate for the winter as the leaves have finally fallen from the maple groves, and the snowflakes are starting to descend upon us. It is a striking contrast from the hustle and bustle of the sunny summer months!
2017 was a year of trying new things, and happily, our experiments were welcomed by those who were able to take advantage of them.
We opened for Memorial Day Weekend for the first time, and people enjoyed the opportunity to see the early season wildflowers in full glory. We will definitely be doing this again in 2018. Click here to reserve your spot now!
We hosted a group of Skydivers from Skydive Chelan for the first time. The consensus was that the North Cascades are an awesome place to jump out of a perfectly good helicopter. www.SkydiveChelan.com
Electric Bikes were a new offering this year – and the wide grins as people came back from riding the fat-tired bikes was all the proof I need to know they were an excellent investment! Learn More…
We also happily made it through the entire season without any wildfires threatening us. The weather was amazing all season, and now as I sit with my feet up next to the fire watching the snowflakes drift down, I have no doubt that I live in a blessed place.
I hope that you are all enjoying your own blessings as the holiday season approaches, and look forward to seeing many of you again as we open the doors to this piece of paradise once again in 2018.
Take care,
Bethany Gehard
General Manager
Stehekin Valley Ranch