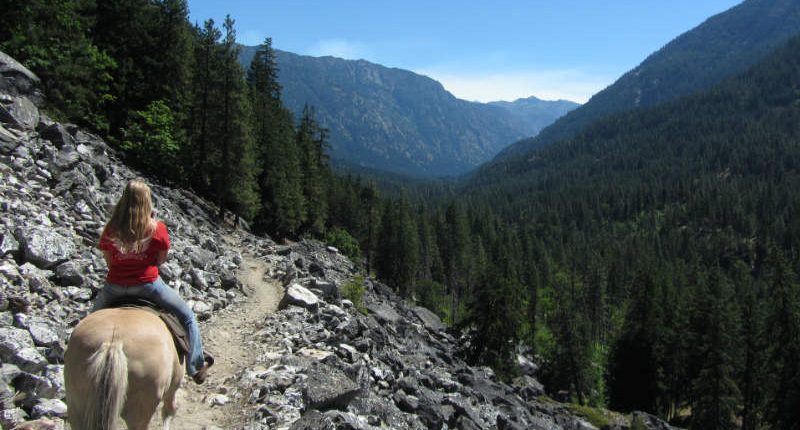 Stehekin Adventure Package
All the Adventure you need, plus time to relax!
3 Nights, 2 Activities, ALL Meals!
Stay in a cozy Ranch style cabin or wagon. Enjoy a horseback ride into spectacular mountain terrain, and a kayak tour on beautiful Lake Chelan*. All meals are provided by Stehekin Valley Ranch. Boat transportation on the Stehekin Ferry, and bus transportation within the Stehekin Valley are also included.
You will also have ample time to get out on a mountain bike, try your hand at fly fishing, or go for some hikes. You can relax around camp, play games indoors or outdoors, and even get a massage!**
Available: June 9 – August 31, 2023
$763/person + tax, double occupancy
Day 1
Getting here is half the fun! Board the Stehekin Ferry at Field's Point Landing, and take a scenic boat trip to the headwaters of Lake Chelan.  You will be met at the dock in Stehekin by our bus, and driven the 9 miles to the Ranch, arriving by 3:30pm. The rest of the afternoon is yours to settle in and/or explore before returning to the cookhouse for a savory dinner.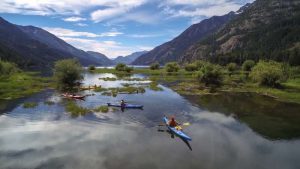 Day 2
Finds you enjoying a morning kayak tour on Lake Chelan and then back to the ranch in time for lunch or you may pack a sack lunch if your afternoon plans are in the lower valley. The afternoon is yours to pick a hike from a variety of great choices!
Day 3
Horseback ride in the morning to Coon Lake on trail wise Norwegian Fjord Horses. This ride is perfect for the beginner or the experienced lover of horse and has splendid views. After lunch, rent an electric bike and explore sites in the lower valley, or ride to the lake for a refreshing swim on a hot day. The trails are closed to biking, but the road makes an excellent place to try out our fat-tire eBikes. This is a great way to tour the valley and your bike is safe by a tree if you decide to stop and fish, hike, or stop and "smell the pine trees".
Day 4
Breakfast is served and then it is back on the bus for your trip down valley stopping at all the points of interest including Rainbow Falls, The Old Stehekin School and of course, the bakery. Ride the Stehekin Ferry and arrive back at your car by 12:30pm, giving you ample daylight to travel to your next destination.
Contact our reservation office directly to book this great package:
509-682-4677  or ranch@stehekinvalleyranch.com
Deposit and Cancellation Policies
Deposit:
We require a 50% deposit (including taxes) to hold your reservation. Contact our reservation office (1-800-536-0745), or send your deposit to:
Stehekin Valley Ranch
P.O. Box 36
Stehekin, WA 98852
Cancellation Policy:
10% of the total cost of stay is nonrefundable. 100% of deposit is nonrefundable unless we are notified in writing (email is fine) 30 days prior to your scheduled arrival. If your reservation is made less than 30 days prior to your scheduled arrival the deposit is non-refundable. Total cost of your stay plus tax is due upon your arrival. 50% of the cost of unused services will be refunded.
Fire, Smoke & "Acts of God" Policy:
We are not responsible for natural disasters which might affect your stay such as fires, smoke, floods, etc. As such, we do not refund your deposit if you decide to cancel due to an "act of God", unless an official closure notice has been issued and guests are literally unable to come – which is a very rare occurrence. If you are concerned about losing your deposit in this sort of event, we highly recommend purchasing Travel Insurance (see below). Please do not expect us to be your insurance policy. Bear in mind that we only take a 50% deposit. If you do end up cancelling, we are meeting you halfway by losing the other 50%. We also encourage folks who may have respiratory issues to not plan your stay during the typical fire/smoke season (generally the month of August has a higher potential for fires in the surrounding area.)
Travel Insurance:
We highly recommend you purchase travel insurance. Unexpected events happen, which can cause you to cancel your trip. To guard against losing your deposit, you can buy travel insurance for a small fee. If you wish to purchase travel insurance, go to TripAssure , or other online travel insurance sites for details and to purchase.
*All activities are subject to weather and other safety concerns. If we cancel any activity for reasons of safety or otherwise, we are only responsible for refunding the value of that particular activity. To participate in any of the activities you will be required to sign an Assumption of Risk waiver.
**1 Horseback ride and 1 Kayak tour are included in the package price. Other activities are available for an additional fee, and we are happy to help you make arrangements for these.