Arrive as Strangers. Leave as Family.
We are looking for good people to join our family as we strive to provide a perfect vacation setting with comfortable cabins, amazing food, and unforgettable experiences for our guests. For the right candidate, this is your ticket to a summer of fun as well. If you bring excitement and positivity to the job, it may not even feel like work! Our goal is to hire a group of employees that are excited to be here, and can feed off of each other's positive energy to provide an unforgettable and uplifting experience to our guests.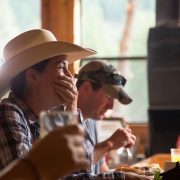 Available positions vary from housekeeping and kitchen jobs to bus drivers, massage therapists, and tour guides. We are a small business, and every single employee is an important part of our extended family in the summer. See our full list of jobs and descriptions here.
If this sounds like the place for you this summer, please fill out our online application. We can't wait to meet you!