Available Positions | Fill out an Application | Jobs
What We Expect From You
We expect our staff to work hard with enthusiasm and a desire to get the job done right the first time. We delight in a member of the team who "owns" his or her job, and with the proper attitude you will have a lot of fun. During your free time you are welcome to participate in ranch activities such as riding, kayaking, hiking, fishing, etc. Remember, though, this is not your summer vacation – it can be strenuous work.
Working as a team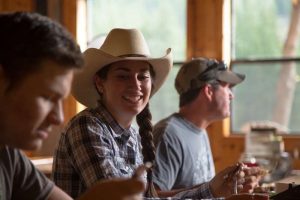 Our staff is very important to us and to succeed we must work together as a team with one goal in mind: to provide the best experience possible for our guests. Living and working together is not easy but if everybody is pulling their own weight it can truly be a joyful time. Because we work and live so closely we all are required to observe certain policies.
Stehekin Valley Ranch is our home and for the time you will be working here it is your home too. We enjoy sharing our home and our way of life with our guests as well as our employees. Every "home" has a culture and we hope that while you are here you will respect and attempt to enhance ours. This is a western guest ranch, and while we don't require or expect our employees to have a western background, we do expect you to be willing to make an effort to adapt to that culture while you are here. Input and ideas are helpful and constructive if done in the proper manner and spirit, so do feel free to express your thoughts. With that, however, you must also be willing to accept and respect the final decision of your superiors.
Availability
First consideration is given to employees who can stay from Memorial Weekend thru September 30th. We are willing to work with your scheduling needs however, so let us know if you are not available for the whole season – we may be able to accommodate.
Punctuality
We have a very strong work ethic and expect the same from you. We depend on you getting to work on time. If you are late it creates a hardship on your co-workers and compromises the quality of service for our guests.
Appearance
As Stehekin Valley Ranch staff, you are in constant contact with our guests – even while off duty. We encourage you to interact with them, and therefore good social skills, table manners, and a neat and clean appearance are necessary.
Makeup, jewelry and perfume must be conservative and in keeping with attire. No jewelry will be worn in body piercing, except ears. Tattoos shall be covered. (Exceptions may be allowed if tattoos are not massive or vulgar.)
Attire
Acceptable clothing would include jeans, pants, or skirts (for women); shirts which do not carry a message and shoes or boots. Keep in mind we are a western guest ranch. Western style apparel is always fitting, but not mandatory.
The following are not acceptable while on duty: shorts, mini-skirts, yoga pants, sweat pants, sleeveless shirts, sandals, or any torn or patched clothing.
Clothes must be neat and clean with shirttails tucked in. Hairstyles must be neat, clean, and well groomed at all times. Men's hair length shall not fall below their collar and we only allow neat and trimmed beards and mustaches. If you did not arrive with a beard or mustache do not plan on growing one while you are here. Women with long hair will be required to perform proper hair management while in food service areas.
Noise and Conduct
It is important to be considerate of others and their privacy. Radios and iPods/iPhones, etc. are not allowed on the job. It is impossible to interact while wearing headphones and noise generally interferes with what people are here for which is peace and quiet.
Staff Guests
Employee housing and meals are not meant to be shared with guests. Your guests will need to make arrangements to either stay at the ranch or other places in the valley. Your accommodations do not allow room for guests. We do not allow camping on the premises; the closest campground is about 1 mile up valley.
Transportation
Stehekin is not accessible by car but does have around 25 miles of its own road. This is a blacktop road for 4.5 miles, and gravel and dirt the rest of its length.
Ranch employees may ride the scheduled lower valley shuttle at no cost that runs 4 times daily. You are encouraged to bring a mountain bike with you. The trails are closed to biking but the Stehekin Valley Road is perfect for biking and a bike will give you some mobility. It is also possible to ship in a vehicle on the barge for a cost of around $125 each way. Sometimes it is cheaper to ship a vehicle in than it is to pay parking on the other end.
Communication
Since Stehekin is remote communication can be a problem. There is a public satellite phone available at the boat landing area. Messages can be delivered by radio for emergencies by calling the Chelan ranch office at (509) 682-4677.
Other emergency numbers are:
North Cascades Dispatch (360) 873-4590 ext. 37
Chelan County Dispatch at (509) 664-5243
Your address while you are here will be
C/O Stehekin Valley Ranch
P.O. Box 36
Stehekin, WA 98852
Internet availability: We do have wireless internet available for our staff, but it is VERY limited. You will not be able to use it to stream videos, make phone calls, or upload/download all your pictures. It will work just fine for email, texting, and some basic website browsing. We do not guarantee that you will be able to pick up the signal in your room/cabin, but you won't have to go far to connect.
Employee Housing
We are able to provide housing and meals for some employees at the ranch. After we interview and before we make an official job offer we will discuss housing needs and costs. Rest assured that whatever your situation we will help you find housing. Housing varies from single rooms, tent cabins, cabins or RV hookups for either your trailer or ours. All units are not fancy but you will have a room of your own. If you are a couple or family we will work with you to find adequate housing.
Dining and laundry facilities are the same as those used by our guests. Remember to consider the guests, and instruction will be given on how to schedule your laundry and meals appropriately.
Pay and Hours
Crewmembers work 30-40 hours per week. More hours are available depending on which position you hold and your experience and attitude. Minimum wage in this state has been raised to $15.74/hour in 2023. After considering your application and your skills, strengths and availability and if we decide to employ you we will make you an offer depending on these factors. Our pay structure enables staff desiring to save money to do so. Our goal is to reward valuable employees well and to have you come back year after year. If you are the type of person who thinks life is one big party, then Stehekin is probably not for you. Drug use or alcohol use is not permitted or tolerated. Smokers do not generally fit in well with our goals or clientele.