SVR Transportation Pages:
While most of our guests choose to arrive via one of the passenger ferries (click here for more info about this option) – some are looking for a little more adventure. Here are some of the other ways you can choose to travel to Stehekin and the Ranch.
Travel by Air
Lake Chelan Helicopters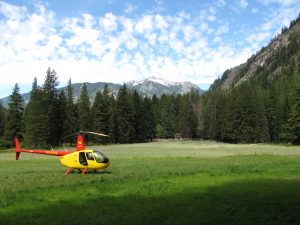 Charter helicopter service between Manson and Stehekin. These guys can land right in our field – super convenient! Visit their website for full rates and booking info.
On your own…
For any pilots out there – this is an amazing area to fly over!
If you have a float plane, you can land on Lake Chelan, and dock at the main marina.
If you need a runway, Stehekin does have a small grass strip, suitable for small planes. Do your research before attempting this runway, as it is a short runway.
If you fly a helicopter, it is possible to land right in our field, but please contact us first for details on where to land.
Travel by Trail
Do your research before traveling by trail! Contact the National Park Service and other agencies in charge of the areas you plan to hike for current trail conditions.
Also, please contact our reservation office with your travel plans and ETA prior to departing on your trip. If we don't know when and where to expect you, we can't come looking for you if something goes wrong on the way here.
Hiking to Stehekin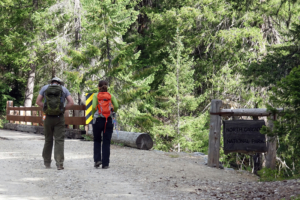 There are a wide variety of trails that lead to Stehekin. The most common routes are the Pacific Crest Trail (PCT) or the Lakeshore Trail. If you choose the Lakeshore Trail, the passenger ferries can drop you off at Prince Creek (17 miles to Stehekin) or Moore Point (7 miles to Stehekin).
Riding Horses to Stehekin
Please Note: We are not currently accepting reservations for horse boarding at the Ranch. Snow caused the stock bridge on the North Fork of Bridge Creek to collapse in 2021, and this bridge has not been replaced. This was the main stock route to Stehekin, and there is no way for stock to cross that creek until a new bridge is installed. Alternate routes are significantly longer and more difficult. In 2022, all reservations for horse boarding were cancelled prior to their trip due to folks deciding they couldn't make the journey on the longer route. Therefore, we have made the decision to close down our guest corrals until the Bridge Creek Trail opens to stock. Please contact the National Park Service regarding any plans to replace the bridge.
Please know your limits (both you and your horse) before riding to Stehekin. A good trail horse will have no problem with the ride in, but this is not the place for your dressage horse. The shortest route to the Ranch is 23 miles, so make sure you and your horse are in good riding shape.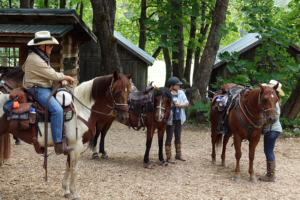 Trail options are slightly more limited for horses than humans in the National Park, but most riders travel via the Pacific Crest Trail from Bridge Creek on Hwy 20. We accept corral reservations July 1 – Sept 15. Trail conditions are iffy outside of this timeframe.
Make sure to reserve both a cabin and corral prior to arrival. We have eight 16×16 corrals available. We provide hay (it will be a mix of grass & alfalfa. If this is a problem, plan to bring your own, as we do not have access to grass hay in Stehekin) and grain as well.
Helpful Links for Planning your Trip