SVR Transportation Pages:
Stehekin Valley Ranch is located 9 miles up an old dirt road from the Stehekin Landing – aka "Town."
The good news? The Ranch provides free scheduled transportation within the valley to our guests.
The above map is a simplified version showing the Stehekin Landing (where the passenger ferries dock) and the Ranch. For an interactive map showing all the points of interest within the Stehekin Valley, click here.
How to get to and from the boat dock:
We make it easy! – If you arrive on the Stehekin Ferry  OR the Lady Express, a Ranch Bus will meet you and bring you to the Ranch upon arrival at the Stehekin Boat Landing.
We make 2 trips daily to the boat dock – coordinated to serve passengers on the Stehekin Ferry or the Lady Express. Just look for the big white bus that says "Stehekin Valley Ranch" and check in with the driver.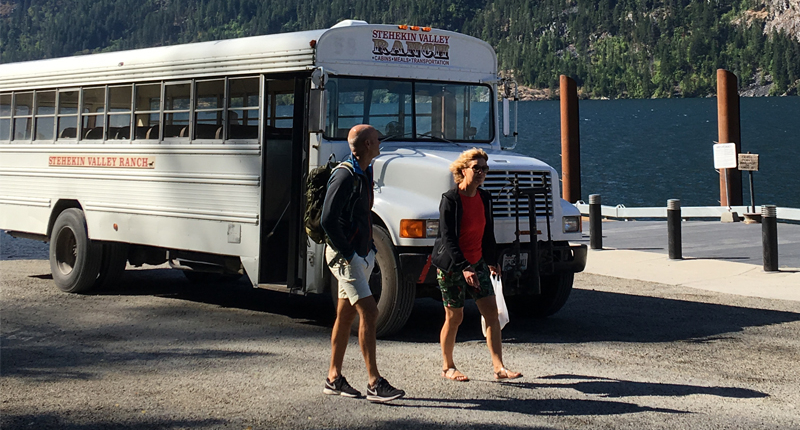 More Options for Travel within the Stehekin Valley:
Once you are settled into the Ranch, there are additional options for getting around. The Bus is free during your entire stay, but there are also rental options if you want to add a bit more "fun" to your ride.
FREE BUS

The Ranch Bus will make daily runs to the Stehekin Landing in order to meet the Stehekin Ferry and the Lady Express. You can also utilize these trips to get to destinations along the way such as the Stehekin Pastry Co, Rainbow Falls, and the Garden.
We will also make several trips up-valley to High Bridge, where you can enjoy the view from the bridge, or head off on one of several great hiking trails.
For a full bus schedule, click here.
ELECTRIC BIKES

The Ranch has a fleet of eBikes available for rent. These are a great way to get out and enjoy the valley at your own pace. Folks have been enjoying them, and generally return with a huge grin!
For more details and pricing, click here.
MOUNTAIN BIKES

Want to put in the effort to pedal unassisted? Regular mountain bikes are also available for rent. With the option to pedal downhill and then ride the bus back uphill, folks can have a grand adventure under their own power.
For more details, click here.
Helpful Links for Planning your Trip