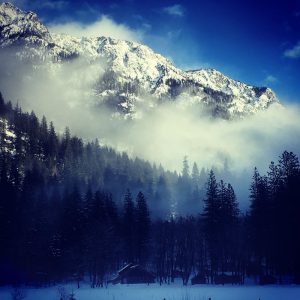 What's the most common question I get in the summer?
What's it like here in the winter?!
Quickly followed by:
What do you DO all winter?!!!
OK. I'll admit, if I was a tourist, that would probably be one of my first questions too. But, in reality, I feel like I live a fairly normal life in the winter. OK, so "work" is pretty laid back, and I have lots of time for vacation. And it is blissfully quiet – no honking horns, rowdy parties next door, or phones ringing off the hook. And it is a bit of a commute to get anywhere other than Stehekin itself. But other than that….I live a fairly normal life.
There seems to be an assumption that a switch is flipped in the fall and everything just stops here for the winter. I suppose to some extent that is true – 99% of the tourists are gone, the major tourist businesses shut down, and us locals have the place to ourselves.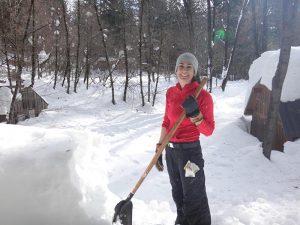 But life does not stop. We find ourselves finally having some time to relax and visit our neighbors, sure. But there is still plenty of work to do. Wood to be collected so we don't freeze all winter. Getting buildings "winterized" and ready for snow and cold temperatures. Then once the snow hits there's shoveling and plowing to do. Indoor projects to be done.
The other awesome thing about Stehekin is that despite the small size of the community, we still have a plethora of talented people here. So, winter is a great time to get together for classes and teaching each other new skills. Art classes, knitting classes, yoga and exercise classes, writing, woodworking – you name it, and someone can probably teach it.
Winter is also a great time to travel. My friend Nancy just got back from a yoga retreat in Costa Rica. She also plays hockey with me, so we travel back and forth to Wenatchee all winter, and play tournaments as far away as Montana.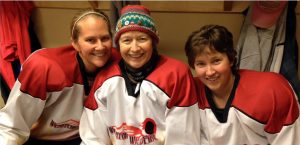 The Stehekin community also gets together for larger events throughout the winter. We just had our "Winter Celebration" – more commonly known as "Fireworks Night". One of the local families gets amazing fireworks every year, and invite the whole valley up for a potluck and to watch the show. (This happens in the winter so as not to burn the place down on the 4th of July.) We also have various talent shows and musical performances throughout the year.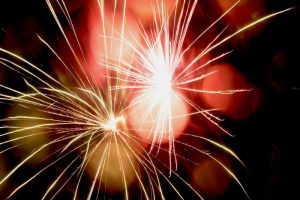 So….what do I DO in the winter?
I enjoy life. Bask in the awesomeness that I am lucky enough to be a part of. Hang out with friends and neighbors. Play in the snow. Visit family. Play hockey. Watch the wildlife outside my door. And maybe even get some work done too.
~Bethany Gerhard,
Stehekin resident
https://stehekinvalleyranch.com/wp-content/uploads/2018/02/winter-at-ranch.jpg
800
800
stehekinvalley
https://stehekinvalleyranch.com/wp-content/uploads/2018/02/logo-small-white-NEW.png
stehekinvalley
2018-02-21 17:21:56
2018-02-21 17:25:03
Stehekin Winters