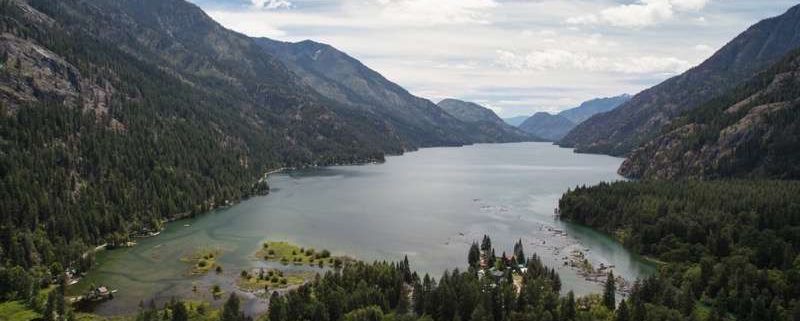 Best Day Hikes in Stehekin: Part 2 – Finding the Vistas
Installment 2 of our day hike suggestions for your stay in the Stehekin Valley (and at our Ranch of course!). The following suggestions fall into the "Moderate" category. More elevation, and more views, but still not overly strenuous.
Rainbow Loop Trail – This trail falls into the easy to moderate category. There are 2 trailheads for this hike. You must hike a bit of the road in order to complete the "loop", but most people simply start at the Upper trailhead, and come out at the Lower trailhead, which is conveniently located about 1/2 mile from the bakery where they can get an ice cream cone and wait for the next bus to bring them back to the Ranch. The upper end of the trail is mostly wooded – quite nice as you are hiking uphill! You will cross a bridge about halfway – this is Rainbow Creek. From here on out you will get many view points looking out across the Stehekin Valley. Looking straight down, you will see Buckner Orchard, and off to the left is Lake Chelan. As an optional extension, you can branch off onto the main Rainbow Creek Trail a mile or so and get some more great views as you go up.
Easy-Moderate 4.5 miles with viewpoints of the Stehekin Valley and Lake Chelan.
McGregor Mountain Lite – This trail is the one for those looking to get some elevation and spectacular views of the North Cascades mountain range. It is 7 miles of uphill trail to get to the summit (stay tuned for our next installment if you are looking to summit), but the great thing about this trail is that you don't have to go to the top to enjoy some fabulous views. As you head up, you will pass Coon Lake about 1 mile in. This is a beautiful alpine lake. Keep going past the lake and you will come to the McGregor Trail turnoff. As you continue up, you'll start getting some great views about another mile from the lake. The farther up you go, the more you will be able to see, but you can turn around at any time. Regardless of how far you go, this hike is well worth the effort on a clear day!
Difficult, but with Moderate options for those not wanting to summit, 14 miles RT to summit, many viewpoints
https://stehekinvalleyranch.com/wp-content/uploads/2016/12/AC7I0551.jpg
533
800
stehekinvalley
https://stehekinvalleyranch.com/wp-content/uploads/2018/02/logo-small-white-NEW.png
stehekinvalley
2016-02-24 23:32:53
2017-01-09 23:33:17
Best Day Hikes in Stehekin: Part 2 – Finding the Vistas